Online-Symposium: Human Rights and Climate Change – The Benefits of Linking Both Agendas in Tourism
Content submitted by Roundtable Human Rights in Tourism –
Katharina
Submited Date :
13/09/2022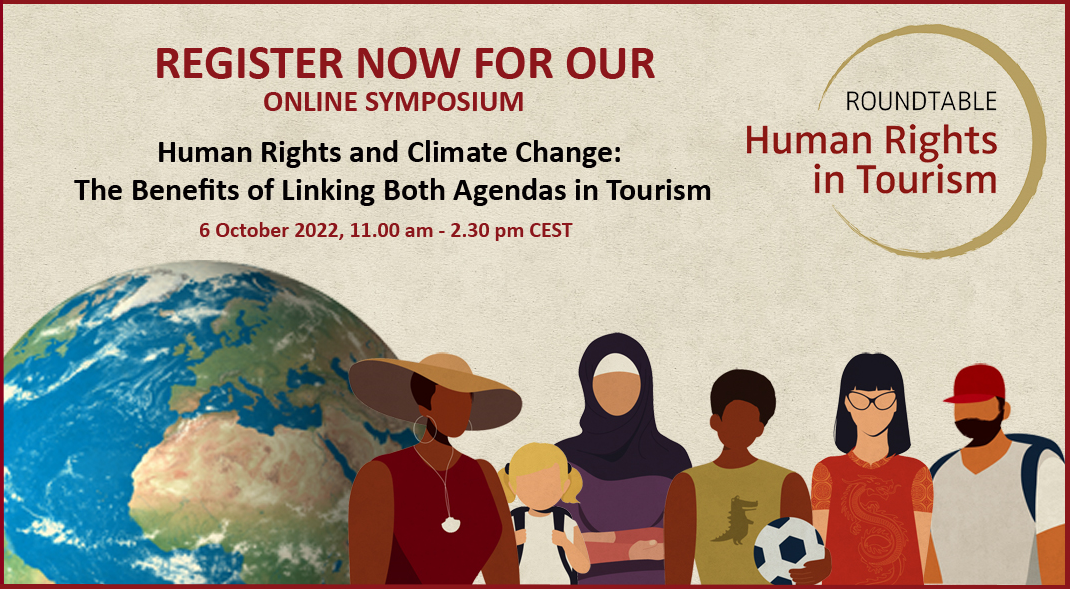 Corporate responses to climate change include a broad range of business decisions - all of them have the potential to impact human rights. At the same time, human rights due diligence has great potential to support effective climate-related decision-making.
Tourism as a service-oriented sector strongly depends on social responsibility and respect for human rights. Tourism activities contribute to climate change, and climate change affects every link in the tourism value chain.
This online event offers inputs around a human-rights-based approach to climate action in tourism through practical steps and shared experiences. We will elaborate on tangible ideas and how to combine both strategies, by
- Understanding the link:
The linkages between climate protection and human rights are multifaceted and undeniable. We show you the overlaps and connections, explain why this is relevant and what it means for the tourism industry.
- Showing Benefits and Approaches:
We will discuss why tourism businesses should integrate human rights into climate change-related actions. We will build the business case by showing how they benefit from combining and aligning both discourses..
- Joining forces:
We want to initiate joined-up discussions and interlink business, human rights and climate action through our collective expertise. We also see this event as an opportunity for exchanging knowledge and ideas regarding approaches, existing resources, good practices and ways of collaboration
Please register here:
https://us02web.zoom.us/meeting/register/tZYkdOuvrD0uG93TNJl33TAyKa1iHut-8f7L