UNWTO – ADB joint session: Aid for Trade Stocktaking Event 2021
Submited Date :
19/03/2021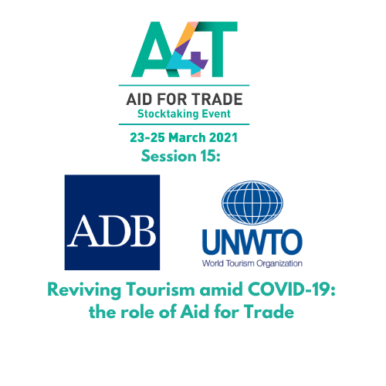 The World Tourism Organization (UNWTO)  is pleased to invite you to attend the UNWTO - ADB joint session in the context of the World Trade Organization's (WTO)  Aid-for-Trade Stocktaking Event 2021.
The tourism sector has been one of the most dynamic service sectors prior to the COVID-19 pandemic. For many developing countries, the sector also generated the largest share in services exports. The COVID-19 pandemic has hit the tourism sector particularly hard and abruptly. Reviving the sector is posing major challenges to governments around the world.
With a focus on the Asia and Pacific region, the session will discuss:
options to help the tourism sector survive and how to prepare for a gradual re-opening. analyze how aid-for-trade can be used strategically to help the sector and to ensure that it delivers in terms of sustainability in the short and long run
present latest research findings on the future of tourism and how to achieve sustainable outcomes conducted by the Asian Development Bank jointly with the UN World Tourism Organization.
Interested participants are required to register here.