Historical trails on two wheels
Content submitted by UNWTO –
Grace
Submited Date :
02/07/2018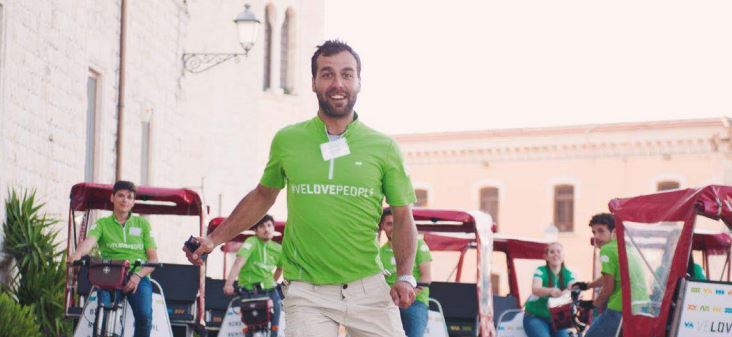 My name is Paco, and this is my story…
I am 34 years old now. Italy is my home – it is who I am, what I love, where my future lies. Here I have lived, loved, dreamed. When I talk with people and friends who know what I do, they say I made a dream come true. Well, maybe yes, maybe not. All I know is that I do what I like most: be with people from all over the world and cycle every day.
I had the idea to build a company when I was 26. I found the right partner – Adriano, 33 years old, who already was a friend of mine. Together we brought the rickshaw businessto Apulia, South Italy. Our idea was simple: give visitors the opportunity to see the places we loved from the seat of a bicycle. Make it possible for them to feel all of the textures, hear all of the sounds, breathe in all of the scents and enjoy all of the energy of the places we love, by being in them. Why not? Something incredible happens when you get people to slow down, look, listen and feel. What better way to make
this happen than on a bicycle.
As mad as it seemed at the time, little by little we made people think that this is a real job. Today our company, veloservice, counts more than 25 guys working in Bari and Lecce who are proud to show the best we have in our land on board our bikes.
Our offering is simple. As we say on our website, since 2008 we have been engaged in promoting a conscious and responsible lifestyle called bike concept. We address zero-emission sustainable mobility by organising activities and events that go beyond the use of a bicycle. We believe in small and good daily habits that lead to great changes.