On the Palace doorstep
Content submitted by UNWTO –
Grace
Submited Date :
02/07/2018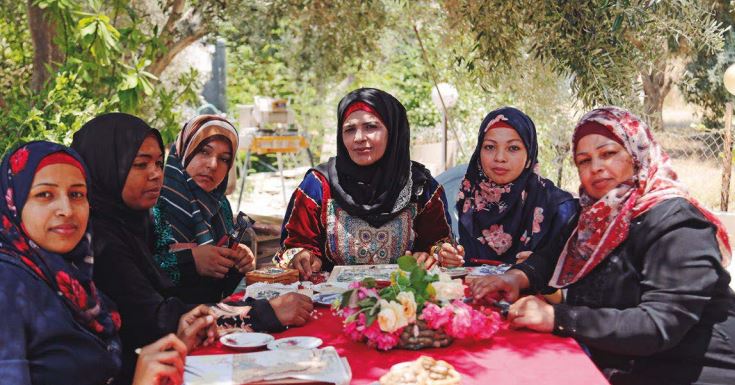 I am Rusaila Derat from the village of Nuwe'meh, and this is my story…
I am from Jericho. I was born near the Hisham Palace.
My family were farmers who planted the land around the Palace. I grew up with those beautiful ruins around me. We planted and herded the sheep. My father was a visionary, and he also held a small canteen at the entrance of the Palace where we learned to deal with tourists. This built in us the
base on which we work today.
When my children grew up and I had some time, I decided with a few women to start a project that was different from all those around us, and that could change our situation.
Jericho is the land of tourism, the land of the 10,000 years, we are in Nuwe'meh, the place of Hisham Palace in Jericho, the land of archeology, tourism and mosaics. I had the idea to combine the beautiful mosaics I saw growing up around Hisham Palace and we started making small items in mosaic as well as silver and mosaic jewelry.
As we did not have the chance to complete our education, we looked forward to have this project be a success. We got together, and each one of us put in some seed money so as to buy some equipment and get training. We started at home, under the tree, and slowly we realized that we need to plan and make sure that every tourist who comes to Palestine goes home with a handicraft from our work. We received lots of moral support from the Ministries and the organizations.
When we started, we thought that this would be an immediate goldmine, but then we realized that the challenges were big. To reach what we wanted, we needed perseverance, patience and determination. The challenge was to distinguish ourselves from other products. We learnt how to do fine artifacts, and also learned how to sell our products to the tourists and local
communities.
Since we started, the project has given us so much power, in our families, in our society and in our education. Today people look up to our group  if women who are slowly building this organization. Four of our colleagues have just started university; they started feeling that the project challenges
them and offers them the means to continue their university education.
Being part of this project gave us so much self-confidence. My children and all our children also gained so much self confidence. We transformed our homes to such a better situation. Most of all, we are confident that our future is safe for our families.