Sowing the seeds of tourism opportunity
Content submitted by UNWTO –
Grace
Submited Date :
02/07/2018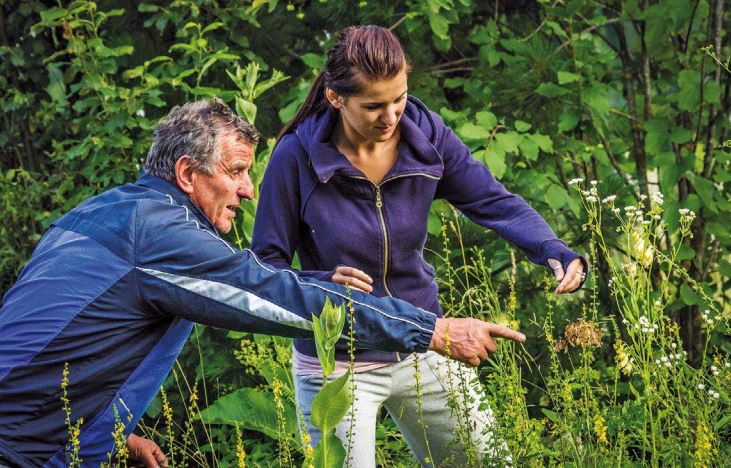 Mico Prascevic with one of his daughters, Montenegro
My name is Milutin Prascevic, but everyone knows me as Mico. This is a story about me…
I am a retired biology teacher. I have four daughters. I have worked in the local school as biology teacher for many years. The school, this place, is my home. I love my home. Since I was a boy I have been passionate about climbing mountains, and I know every corner of the Prokletije mountains. They have recently become a protected zone of the national park Prokletije. While teaching my students about plants I realized that it would be easier to show them. My students loved the idea. As I spent every spare moment in the mountains, I decided to start bringing plants. I would carefully take the plants from their home in the mountains, making sure their roots were protected, and bring them to the school. That is how my 20 years long work of creating a botanical garden was initiated. Today, I have 350 plant species that are typical for Prokletije right here in my garden.
Initially, this garden was just a place where my students got practical education, and the place where I tried to 'infect' them with love for plants,
biology and nature in general.Then biology students, botanists and nature lovers from surrounding countries started to visit, for scientific purposes. When a national park was declared, couple of years ago, this garden became a favourite point on a cultural route of Plav, a place visited by tourists passing by.
Because all of this was the product of my enthusiasm, and main goal was to get students and everyone else to respect Prokletije biodiversity, I never wanted to charge anyone for visits to the garden. But my family and I have realized that we could offer other services, especially when the number of visitors started to grow, and maintain free entry policy but still
have additional income.
We offer different services – I guide groups who want to see natural habitat of these plants, we have built a wooden cottage where we offer accommodation, we prepare meals for visitors, and since we have an orchard, we make jams, preserves and brandies, which are my specialty, as I add various aromatic herbs to them. We package these products and we sell them.
As the number of visitors to our zone has just started to grow, we have not yet had significant income from these activities.But we know this will come. What we have created is too special for tourists to miss out on. We are still beginners. But I have no doubts we will be successful. Our garden has been declared as zone of particular importance for natural heritage
of Polimlje area.
By doing the work we do, we contribute to the tourism offering, we raise awareness on Prokletije biodiversity, we educate about relicts and endemic species, and we generate additional income for our family. And it all came to be as a combination of my education and my hobbies, at time when I was coming to the age that I thought no real work is ahead of me!
I am sure that the work I do keeps me healthy. I keep my plants healthy, they keep me healthy, and as my daughters will continue in my footsteps, my plants will keep my children healthy.