Taking pride in our heritage
Content submitted by UNWTO –
Grace
Submited Date :
02/07/2018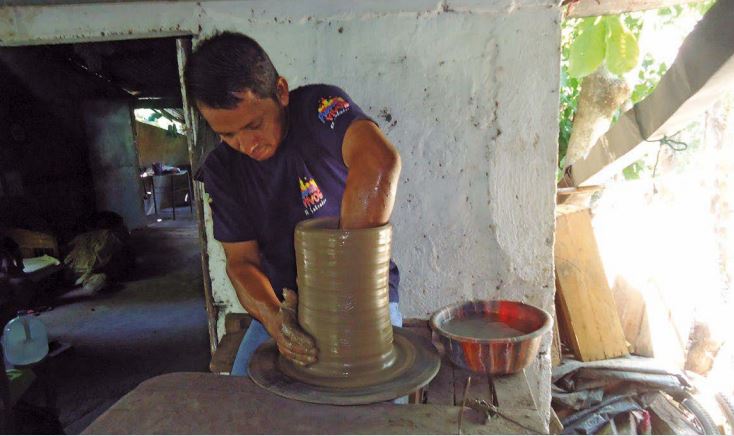 I am a Santo Domingo native from the department of Sonsonate in El Salvador, here I live with my family. I am the President of the Cooperative Association of Agricultural Artisanal Production for Tourists 'Huitzapan´, which is the Nahuatl name of Santo Domingo; in Spanish it means 'River of Thorns'.
Tourism has changed the lives of the families of Santo Domingo since we joined with the Ministry of Tourism in 2011. That was when they were forming the Nahuatl-Pipil Route with five other municipalities of Sonsonate through the project Strengthening Entrepreneurial capabilities of Indigenous Communities of Sonsonate through Ecotourism. It was funded by the Organization of American States (OAS).
Today there is much more tourism-related activity available to tourists, and we have linked to 170 handicraft workshops in red clay and wood to create 'The Path of the Red Clay'. There you can find a variety of objects for decoration, others for use in the kitchen, and tourists can also learn how to handle the mud and create some traditional figures.
The second group of tourist attractions is more physical and involves the Salto El Escuco, the Salto Tepechapa and the Poza Encantada. The easiest is the Salto El Escudo, a few minutes' walk from the village to a natural site where the ancient cosmological energy can be felt. The jump is 83 meters
high and its waters are crystal clear and icy. The more intense option is the long walk to the Salto Tepechapa, along a nature trail that tests fitness and which ends in a wonderful waterfall of 90 meters high. Before arriving at the waterfall, tourists can take a break at the Enchanted Poza, about halfway, where it is said that there lives a golden fish that appears in the pool. When people try to catch it, it hides in a cave inside the pool. Locals say that once a couple of men tried to catch it but they drowned, and that it makes an appearance at midnight.
What I like about my job is that it combines tourism with the crafts and the Nahuatl language. In our community the majority of people speak Nahuatl. Thanks to tourism, we have been able to diversify the local economy and conserve our natural and cultural resources
Tourism has become our way of keeping our traditions alive, our people secure, and our community proud.