The spirit of Istria
Content submitted by UNWTO –
Grace
Submited Date :
02/07/2018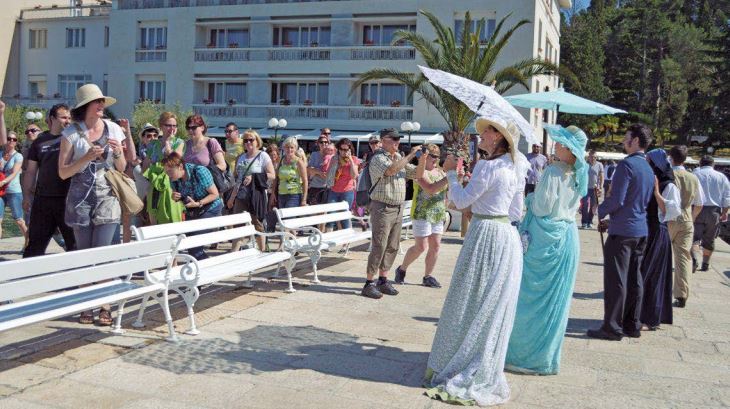 Istra Inspirit artists with tourists in Brioni, Croatia
I am Manuela Hrvatin, and this is my story…
Four years ago on the Istrian peninsula, a small tourism revolution began. Project Istra Inspirit was set by the Region of Istria, the Istrian Tourist Board and the Istrian Tourism Development Agency to make our rich cultural and historical legacy the cornerstone of the authentic Istrian tourist experience. Together, we wanted to bring tourism in Istria to life in a way that would keep our history and community alive.
We knew that globalization is threatening the traditional identity of the community and that tourists today want authenticity and they want to experience it with the local community.
Strongly disliking the term 'event', we decided to create 'experiences' interactive performances based on Istrian stories, myths and legends taking place on authentic locations linked to the stories and enriched with thematic dinners prepared with local ingredients. The journey through
the history of Istria began!
Proud of our tradition and culture, we started with our stories throughout the peninsula, with the support of the local community as a part of Inspirit. We thought that our wish to preserve traditional heritage would be acknowledged and that it would be easy. We thought that everybody in the Istrian tourism sector would share our vision.
However, we soon realized that in tourism development there are two options: the first, using local communities and cultural and historical heritage solely to make profit, and the second serving the community and promoting new investments to revitalize the cultural and historical
heritage. Although the second option is more difficult and pays off only in the long run, it was the only right choice for us as a place and people.
Together, we set up our principles the rules of conduct from which we do not deviate and followed them through. Four years later, writing about our beginnings and dreaming about the future, we are happy to say that we are achieving our goals. Inspirit experiences grew in numbers, the fourth generation of tourism and culture students are actively involved in the project, local producers of souvenirs, family farmers, craftsmen, artists and others want to join us and offer their products to guests of Istria.
We are preparing for the new season. We are already thinking about torches that will light up the darkened streets of the abandoned medieval town of Dvigrad, already imagining expressions on the faces of our guests when they enter the cold depths of the Rasa mines. In our fantasies, we already laugh and rejoice with guests of a typical fisherman's tavern Spacio for whom honest working Rovinj fishermen will prepare dinner. Looking at the sun from our office, we imagine a romantic sunset at the archaeological site of Vizula, where a true Roman drama took place, or the sun which warms the hands of working people from Buzet who will prepare homemade bread for Inspirit guests, teach them to play traditional Istrian games and try to get them to help wash laundry in the old way.
There are more and more stories; there is more work to be done. So be it. Istria deserves it, tourists deserve it, my culture, history and traditions
deserve it.