Turning a home into hope
Content submitted by UNWTO –
Grace
Submited Date :
02/07/2018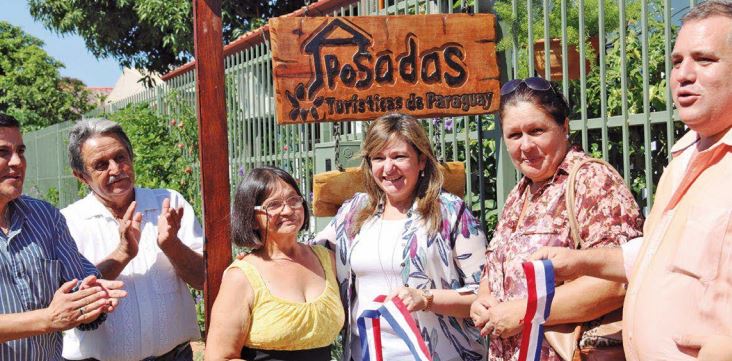 I'm Regina Martinez, and this is my story…
My husband, a sportsman, and I are living here in Ayolas. He works here and I'm retired. We both are seniors. After a delicate health problem that I went through, the doctors recommended me to do occupational therapy.
In Ayolas we found a house that was for sale and although the house was in a state of neglect, we asked for a bank loan and bought it because it was near the river and my husband and I really like the river, nature and green spaces. It also has a church in the corner. This house is in the neighborhood
San Jose-Mí in Ayolas City. I myself was in charge of many of the tasks of repairing the house. For example, I painted doors and walls. These occupations were part of my therapy. A Senatur official came home to introduce me to the program 'Posadas Turísticas' (Tourist Lodges). I loved it, and I agreed to join this program because I like to receive and
give attention to the people in my house.
Senatur offered lectures and workshops to enable us to
focus on guests. I was fortunate that most of my guests were families. Since I started getting people in my lodge I was very lucky because they come from various parts of the country. For me it is a very positive experience because it keeps me constantly busy working at home. By nature I like to put everything in order, I work to keep everything clean at all times and offering attention to my guests. Although it is my husband who does public
relations for pleasure, and that's why he has so many friends.
I deeply recommend people to dare to enter
this program 'Posadas Turísticas'. Especially for women, and even more if they want to help their husbands to also bring an income of money into
the economy of the family. For me, it gave me a job in my own house, comfortable without having to meet timetables or public transport mobilization that I cannot do anymore. I receive an interesting income through my lodge. And all the money I make I reinvest in improvements to the lodge.
With most of my guests, I have an almost family relationship and we are in touch thanks to the technology of today. We send greetings and messages by cell phones.
Since the very beginning of my Tourist Lodge, we have always given opportunity to work to all who we contracted for the construction, and so far I have hired someone to help me in cleaning.
Senatur helped me a lot, providing me with blankets, curtains, tablecloth and other items handed over to me. For me Senatur is already like my family.