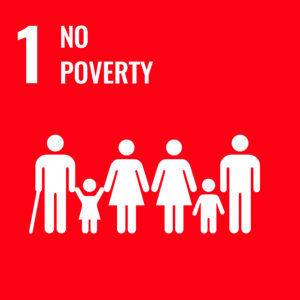 The  tourism  sector  can  contribute  to  poverty  reduction  both    in    a    direct    manner    (employment    in    tourism    enterprises;   supplying   goods   and   services   to   tourists   and    tourism    enterprises;    establishing/running    micro,    small    and    community-based    tourism    enterprises    by    people living in poverty), and in an indirect manner (using income   generated   tourism-related   taxes   and   fees   for   poverty  reduction  purposes;  voluntary  giving  by  tourists  and  tourism  enterprises  to  initiatives  addressing  poverty  reduction;   investments   in   infrastructure   stimulated   by   tourism  development  from  which  people  living  in  poverty  in a destination also benefit).
The  achievement  of  SDG  1  through  the  lenses  of  tourism  requires  commitment  from  governments  and  the  private  sector   at   a   national   and   local   destination   level,   with   relevant  policies  and  tools;  and  interventions  can  best  be  adopted  to  support  poor  and  vulnerable  communities,  with particular attention   to   women,   minorities,   disabled   people,  and  the  elderly  and  young  people  –  all  of  whom  can engage effectively in the tourism sector .
There are five targets within SDG 1 that are deemed to have a stronger and direct link for tourism to contribute to poverty eradication. These targets have been selected to base the potential project indicators. 
Target 1.2
Target 1.3
Target 1.5
Target 1.a
Target 1.b
Target 1.2
TARGET 1.2 
 BY 2030 REDUCE AT LEAST BY HALF THE PROPORTION OF MEN, WOMEN AND CHILDREN OF ALL AGES LIVING IN POVERTY IN ALL ITS DIMENSIONS ACCORDING TO NATIONAL DEFINITIONS.
Poverty has many dimensions, including lack of income and productive resources sufficient to ensure sustainable livelihoods. It is often related to hunger and malnutrition, poor health, limited or lack of access to education, homelessness and many more. Tourism is a labour-intensive and diverse sector, and it can be linked with national poverty reduction strategies and entrepreneurship. It is, thus, well-positioned to tackle poverty at all levels. The low skills requirement and local jobs offered by the tourism sector are more accessible by and benefit more the poor and vulnerable, particularly youth and women.
Potential indicators in this target are grouped by the following Theme and sub-theme:
Employment / Recruitment of persons from vulnerable groups
Business development / Entrepreneurship
Education and training / Capacity building
Target 1.3
Target 1.5
Target 1.a
Target 1.b