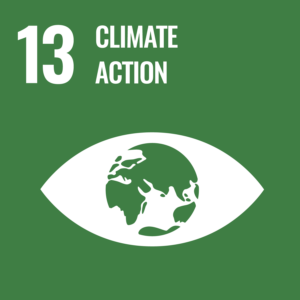 As a sector that is dependent on the environment, tourism contributes to and is directly affected by climate change. Tourism stakeholders should play a leading role in the global response to climate change. By reducing its carbon footprint, mostly in the transport and accommodation industries, tourism can benefit from low carbon growth and help tackle one of the most pressing challenges of our time.
There are four targets within SDG 13 that are deemed to ensure the promotion of climate action. These targets have been selected to base the potential project indicators. 
Target 13.1
Target 13.2
Target 13.3
Target 13.b
Target 13.1
TARGET 13.1
STRENGTHEN RESILIENCE AND ADAPTIVE CAPACITY TO CLIMATE-RELATED HAZARDS AND NATURAL DISASTERS IN ALL COUNTRIES.
Target 13.1 specifically aims to strengthen resilience and adaptive capacity to climate-related hazards and natural disasters. Such events are the consequence of climate change, and their frequency and intensity are increasing. Many tourism destinations are exposed to different impacts from climate change, such as coastal erosion, reduction of the snowpack, hurricanes, etc. It is therefore crucial to build resilience including proactively de-risking and adapting destinations, reducing exposure and vulnerability to climate-related extreme events, as well as other economic, social and environmental shocks and disasters. Tourism stakeholders can transform the landscape for climate action and optimize instruments and strategies to scale up mitigation and adaptation in tourism destinations, contributing therefore towards the achievement of this target. 
Potential indicators in this target are grouped by the following Theme and sub-theme:
Climate action/ Disaster risk reduction
Crisis management / Crisis communications strategy
Infrastructure / Urbanization
Education and training / Capacity building
Education and training / Awareness raising
Target 13.2
Target 13.3
Target 13.b