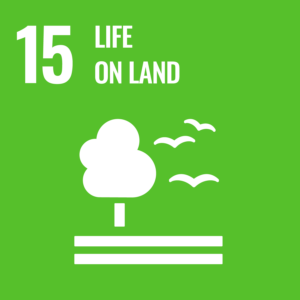 Goal 15 focuses specifically on managing forests sustainably, halting and reversing land and natural habitat degradation, successfully combating desertification, and stopping biodiversity loss. All these efforts combined aim to ensure that the benefits of land-based ecosystems, including sustainable livelihoods, will be enjoyed for generations to come. Continued global deforestation, land and ecosystem degradation and biodiversity loss pose major risks to human survival and sustainable development. Preserving diverse forms of life on land requires targeted efforts to protect, restore and promote the conservation and sustainable use of terrestrial and other ecosystems.
There are ten targets within SDG 15 that are deemed to have a stronger and direct link for tourism to protect, restore, and promote sustainable use of terrestrial ecosystems, sustainably manage forests, combat desertification, and halt and reverse land degradation and halt biodiversity loss. These targets have been selected to base the potential project indicators. 
Target 15.1
Target 15.2
Target 15.3
Target 15.4
Target 15.5
Target 15.7
Target 15.8
Target 15.9
Target 15.a
Target 15.c
Target 15.1
TARGET 15.1
BY 2020, ENSURE THE CONSERVATION, RESTORATION AND SUSTAINABLE USE OF TERRESTRIAL AND INLAND FRESHWATER ECOSYSTEMS AND THEIR SERVICES, IN PARTICULAR FORESTS, WETLANDS, MOUNTAINS, AND DRYLANDS, IN LINE WITH OBLIGATIONS UNDER INTERNATIONAL AGREEMENTS ACCESS TO FINANCIAL SERVICES
Rare flora and fauna and unique ecosystems are significant attractions for tourists. The growth of niche tourism which focuses on experiences of visiting fragile sites to observe or study these species and ecosystems both enhances learning about environments and brings knowledge about the risk of damage to the ecosystem. Due to their attractiveness, pristine sites and natural areas are identified as valuable and the need to keep the attraction alive can lead to the creation of parks and wildlife conservation parks. Tourism's contribution to this target can be seen through the worldwide efforts and international agreements entered to provide protection for the world's ecological treasures, as demand to visit and experience them grows. 
Potential indicators in this target are grouped by the following Theme and sub-theme:
Ecosystem / Protected areas
Target 15.2
Target 15.3
Target 15.4
Target 15.5
Target 15.7
Target 15.8
Target 15.9
Target 15.a
Target 15.c