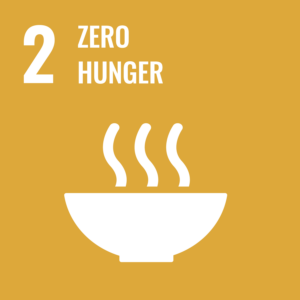 Tourism can spur sustainable agriculture, and its full integration in the tourism value chain, by promoting the sustainable production and supplies of food and beverages to accommodation establishments, sales of local products to tourists, and many more. Agritourism can generate additional income while enhancing the value of the tourism experience and the mechanism whereby tourists' consumption improves local farmers capacity and promotes it. The infrastructure needed for the development of tourism would also contribute to a stable food supply in the region.
There are four targets within SDG 2 that are deemed to have a stronger and direct link for tourism to end hunger, achieve food security and improve nutirtion and promote sustainable agriculture. These targets have been selected to base the potential project indicators
Target 2.1
Target 2.3
Target 2.4
Target 2.a
Target 2.1
TARGET 2.1
BY 2030, END HUNGER AND ENSURE ACCESS BY ALL PEOPLE, IN PARTICULAR THE POOR AND PEOPLE IN VULNERABLE SITUATIONS, INCLUDING INFANTS, TO SAFE, NUTRITIOUS AND SUFFICIENT FOOD ALL YEAR ROUND.
Tourism is well positioned to improve access to food for the population. Tourism facilitates the need for more agricultural production to supply local eating establishments and visitors. It can create and diversify demand and provide support for food production, job creation and intersectoral economic growth, which in turn, would contribute to improved access to safe, nutritious and sufficient food for all (see SDGs 1 and 8 and Target 2.3)  Agritourism can be seen to educate travellers and generate additional income for agricultural production communities. Tourism may also indirectly improve access to food for the poor and people in vulnerable groups, for example through zero waste initiatives and support for distribution to soup kitchens, food banks or similar, which welcome those in need or at risk of social exclusion.
Potential indicators in this target are grouped by the following Theme and sub-theme
Food safety and security/ Food access 
Tourism value chain / Tourism products 
Ecosystem / Natural and cultural heritage 
Partnerships/ Public-private partnerships 
Education and training / Awareness raising
Education and training / Capacity building 
Target 2.3
Target 2.4
Target 2.a