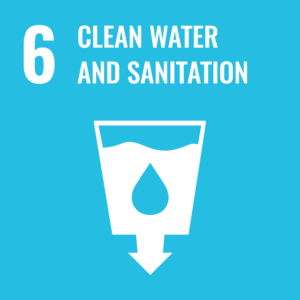 Tourism investment for utilities can play a critical role in achieving water access and security, as well as hygiene and sanitation for all in tourism destinations and their surroundings. The efficient use of water in tourism, coupled with appropriate safety measures, wastewater management, pollution control and technology efficiency can be key to safeguarding our most precious resource.
There are six targets within SDG 6 that are deemed to have a ensure the sustainable management of water and sanitation for all. These targets have been selected to base the potential project indicators.
Target 6.2
Target 6.3
Target 6.4
Target 6.5
Target 6.6
Target 6.b
Target 6.2
TARGET 6.2
BY 2030, ACHIEVE ACCESS TO ADEQUATE AND EQUITABLE SANITATION AND HYGIENE FOR ALL AND END OPEN DEFECATION, PAYING SPECIAL ATTENTION TO THE NEEDS OF WOMEN AND GIRLS AND THOSE IN VULNERABLE SITUATIONS. 
Good sanitation is important for tourism as the sector is highly susceptible to perceptions or images of a destination, hence if tourists are dissatisfied with sanitation facilities in a country, they may not be likely to revisit and this would in turn discourage other potential tourists as well. Poor sanitation and hygiene and inadequate quantities and quality of clean water are responsible for water, sanitation and hygiene (WASH) related diseases. 
The target pays special attention to the needs of women and girls, as well as people in vulnerable situations, and specified disaggregation and data collection are needed. Consultations with vulnerable groups may be required. Tourism development projects can contribute to this target through safely managed sanitation services including providing hygienic toilet facilities, safe management, treatment and disposal of waste produced. Division of hygiene facilities for female tourism workers is also an important consideration given the negative impacts on dignity, privacy and personal safety for women and girls.
Potential indicators in this target are grouped by the following Theme and sub-theme:
Health / Sanitation and hygiene protocols/guidelines
Infrastructure / Sanitation facilities
Education and training / Awareness raising
Target 6.3
Target 6.4
Target 6.5
Target 6.6
Target 6.b