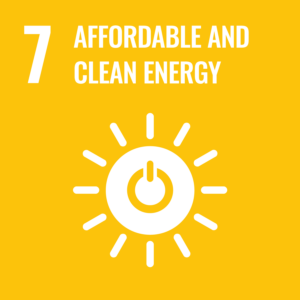 Tourism is energy-intensive and as a sector can also be a source of environmental damage, especially when reliant on scarce resources like fossil fuels. By promoting investment in clean energy sources, tourism can help to reduce greenhouse gas emissions, mitigate climate change and contribute to access to energy for all. The implementation of renewables in a local community can start in the tourism sector, for example, ocean energy in Small Island Developing States (SIDS). 
Paying particular attention to the potential growth of developing countries, tourism stakeholders should prioritize energy efficiency across operations and whenever possible aim to source operational electricity needs from renewable sources.
 There are three targets within SDG 7 that are deemed have a closer link for tourism to help ensure access tpoaffordable, reliable, sustainable and modern energy for all. These targets have been selected to base the potential project indicators. 
Target 7.2
Target 7.3
Target 7.b
Target 7.2
TARGET 7.2
BY 2030, INCREASE SUBSTANTIALLY THE SHARE OF RENEWABLE ENERGY IN THE GLOBAL ENERGY MIX.
Using renewable energy sources can significantly decrease the environmental footprint of tourism and production of energy will help businesses cope with the fluctuation of fuel supply and protect them from price inflation or shortage of fuels, making renewable energy a case for economic sustainability. Commitment to the use of renewable energy sources within the destination and the tourism sector, including self-production of energy, procurement of green energy, passive designs. in construction, as well as proactive regulatory frameworks and incentives can accelerate the shift towards renewable energy, helping to achieve this target. 
Various parts of the tourism sector can have different approaches to change their energy sources. For example, the use of electric vehicles instead of conventional transportation, the use of air conditioning and boilers powered by solar and other renewable energy sources.
Potential indicators in this target are grouped by the following Theme and sub-theme:
Natural resource management / Renewable energy 
Infrastructure / Energy efficient installations 
Legal framework, policies and rule of law / Tourism policies and strategies
Education and training / Capacity building
Target 7.3
Target 7.b