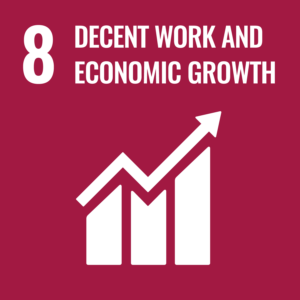 Decent work opportunities in tourism, particularly for youth and women, migrants and displaced persons, and policies that favour better diversification through tourism value chains can enhance tourism-positive socioeconomic impacts. Tourism is one of the driving forces of global economic growth and is considered an effective sector to achieving decent work and economic growth in developing countries, especially so for the LDCs, LLDCs – a recognition reflected explicitly in Target 8.9 "By 2030, devise and implement policies to promote sustainable tourism that creates jobs and promotes local culture and products."
The careful management of tourism will unlock tourism's potential to stimulate job creation, contribute to rural development, promote cultural awareness, and help preserve local cultural traditions, etc. Due to the crosscutting nature of tourism, it is the perfect vehicle for the journey towards achieving the SDGs.
There are eight targets within SDG 8 that are deemed to have a stronger and direct link for tourism to promote sustained, inclusive and sustainable economic growth, full and productive employment and decent work for all. These targets have been selected to base the potential project indicators. 
Target 8.2
Target 8.3
Target 8.4
Target 8.5
Target 8.6
Target 8.7
Target 8.8
Target 8.9
Target 8.2
TARGET 8.2
ACHIEVE HIGHER LEVELS OF ECONOMIC PRODUCTIVITY THROUGH DIVERSIFICATION, TECHNOLOGICAL UPGRADING AND INNOVATION, INCLUDING THROUGH A FOCUS ON HIGH-VALUE ADDED AND LABOUR-INTENSIVE SECTORS
As a labour-intensive sector, tourism benefits from technology and digitalization, from automation of various processes in the industry – from booking and reservation systems to new and innovative ways to improve business operations. By leveraging these technologies, tourism businesses can increase efficienc reduce costs and improve customer satisfaction, leading to an increase in revenue and overall economic growth. Tourism also has a significant multiplier effect on employment, cutting across various sectors. 
Potential indicators in this target are grouped by the following Theme and sub-theme:
Education and training / Capacity building and training 
Business development / Innovation
Target 8.3
Target 8.4
Target 8.5
Target 8.6
Target 8.7
Target 8.8
Target 8.9