A Global Initiative for Tourism Executives - Recovery and Resilience Dialogue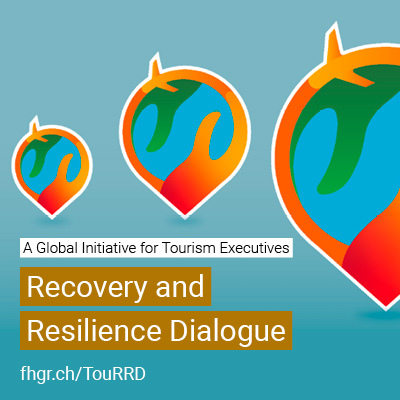 How to survive amidst COVID-19 in the short run without neglecting the destination's or company's long-term resilience and sustainability? How do leading decision-makers from the public and private realm cope with this monumental challenge?
The high-profile "Tourism Recovery and Resilience Dialogue" revolves around these questions and presents insightful practical cases to provide orientation and inspiration to decision-makers of small and large tourism organisations alike .
The virtual dialogue conducted by the UAS Grisons in cooperation with the Global Compact Network Switzerland and Liechtenstein, the Swiss State Secretariat for Economic Affairs, the World Economic Forum and the UN World Tourism Organization brought together leaders from politics, business and civil society from around the world to discuss three particular challenges at three meetings on November 18, December 9 2020 and January 13 2021
Download the executive summary of the Dialogue's 1st event on Restoring Consumers' Confidence and Trust HERE