"COVID-19 and the transformation of tourism" Policy Brief by the Secretary General of the United Nations
Submited Date :
25/08/2020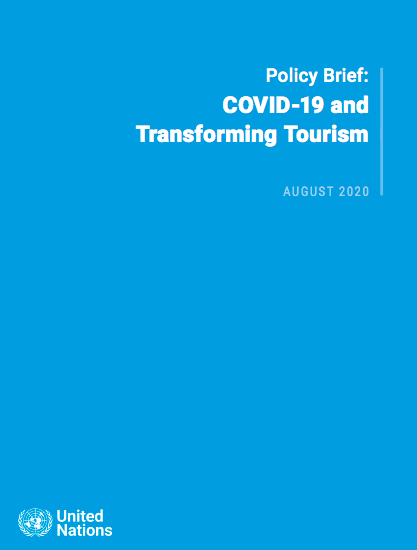 The COVID-19 and Transforming Tourism Policy Brief  released on 25th August 2020 is part of the wider UN response and outreach to and around the pandemic. UNWTO has been the lead author of the brief, and 11 other UN agencies contributed to the policy document, highlighting the unique importance and scope of the sector.
The Policy Brief provides an overview of the socio-economic impacts from the pandemic on tourism, including on the millions of livelihoods it sustains. It highlights the role tourism plays in advancing the Sustainable Development Goals, including its relationship with environmental goals and culture. The Brief calls on the urgency of mitigating the impacts on livelihoods, especially for women, youth and informal workers. The crisis is an opportunity to rethink how tourism interacts with our societies, other economic sectors, and our natural resources and ecosystems; to measure and manage it better; to ensure a fair distribution of its benefits and to advance the transition towards a carbon-neutral and resilient tourism economy.  
The brief provides recommendations in five priority areas to cushion the massive impacts on lives and economies and to rebuild tourism with people at the center. It features examples of governments' support to the sector, calls for a reopening that gives priority to the health and safety of the workers, travelers, and host communities and provides a roadmap to transform tourism.
For Full Brief and Key Messages of the Brief please see the link below: