8th UNWTO International Meeting on Silk Road Tourism
Content submitted by UNWTO –
Grace
Submited Date :
06/07/2018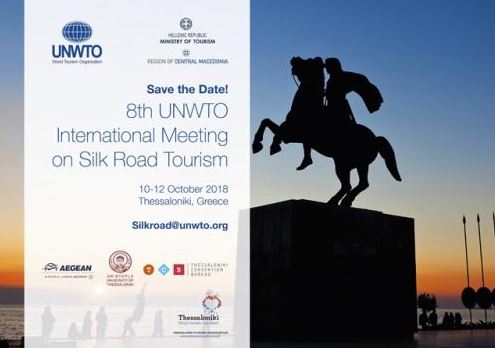 Image Caption
The World Tourism Organization (UNWTO), the Ministry of Tourism of Greece and the Region of Central Macedonia have partnered together to organize the 8th UNWTO International Meeting on Silk Road Tourism in Thessaloniki, Greece on 10-12 October 2018.
Following the success of the previous two editions in Dunhuang (2013) andXi'an (2015) in China, this international Silk Road meeting will be hosted for the very first time by a European Silk Road Member State, and focus on the overarching role and relevance of the Silk Road within a globalized tourism framework.
To count upon the participation of Silk Road Member States, UNWTO Affiliate Members and international partner agencies, interested stakeholders from around the globe, both public and private, are invited to attend an event that will count upon a ministerial roundtable and specialized sessions focused on assessing the role and relevance of the historic Silk Road routes within a globalized setting.
Together with the Pacific Asia Travel Association (PATA), a joint session assessing the Silk Road's role in bridging Europe with Asia will take place, after which a B2B session aimed at strengthening business ties between European and Asian stakeholders will be held during the second day of the event. Primarily focused on tourism partnerships, but open to all business sectors, stakeholders interested in exploring the vast opportunities of trans-continental exchange are encouraged to make the most of this networking opportunity. Participation in the B2B session is free of cost; only registration for the event is required.
Event partners:
UNWTO is pleased to partner with Aegean Airlines, the Aristotle University of Thessaloniki, the Thessaloniki Convention Bureau, the Thessaloniki Tourism Organization, and the Pacific Asia Travel Association (PATA) in organizing this event.