HLPF 2022 Side Event: Tourism and the SDGs – Accelerating the 2030 Agenda
Submited Date :
05/07/2022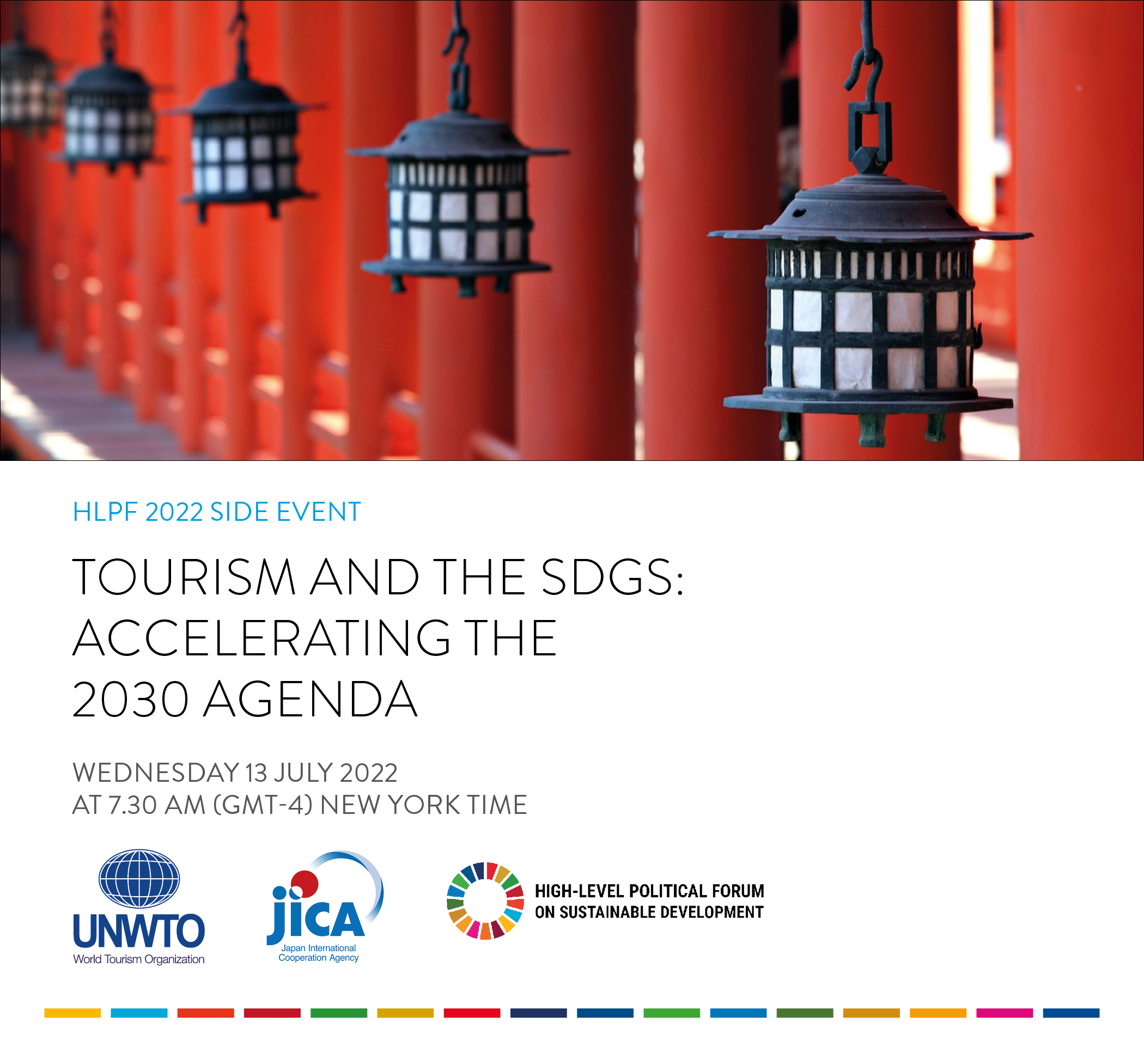 The COVID-19 pandemic has deeply impacted the tourism sector with a spill-over effect of unexpected socio-economic consequences to many other sectors. It has also provided an opportunity to rethink the sector and mainstream its contribution to advance the SDGs.
JICA and UNTWO have worked together in advancing the 2030 Agenda since many years. The entities have joined efforts to create a manual consisting of common and harmonised indicators, and explanations of connections with official SDGs indicators. It aims to evaluate the impact of tourism and its contribution to the SDGs at project level and can be adopted globally for all tourism projects. The indicators set is of acute actuality to showcase the transformative power of tourism, at all levels, and the spill-over effects of investments and interventions in the sector.
The side event will showcase how to better understand the SDGs from the perspective of tourism and recognise the true potential of the sector as a driver to achieve the SDGs. It will gather key public and private sector tourism stakeholders to discuss how tourism contributes to several goals, namely through the work of One Planet Network – Sustainable Tourism Programme as well as in the form of community-based interventions, socio-economic recovery plans and regional tourism strategies.
Opening Remarks by:
Zoritsa Urosevic, Executive Director, World Tourism Organization (UNWTO)
Shingo Morihata, Deputy Director General, and Group Director for Private Sector Development, Economic Development Department, Japan International Cooperation Agency (JICA)
Panel Discussions: Power of Tourism as a driver for Sustainable Development 
Takashi Aoki, Leader of  JICA Project for 'Enhancing the Mechanism for Sustainable Community Based Tourism Development in the North Region' in Dominican Republic
Chris Cocker, CEO, South Pacific Tourism Organization (SPTO)

Delphine Malleret-King,

Executive Director, The Long Run

Lina Fernanda Pinto, International Cooperation Program and Delegate of the Directorate of Quality and Sustainable Development of the Vice-Ministry of Tourism of Colombia
Nadine Pinto, Global Sustainability Manager, The Travel Corporation
Moderator: Prof. Vafadari M. Kazem (Ritsumeikan Asia Pacific University)
Kindly find the recording of the event on UNWTO YouTube channel HERE