UNWTO Conference on City Breaks: Creating Innovative Tourism Experiences
Content submitted by UNWTO –
Grace
Submited Date :
28/06/2018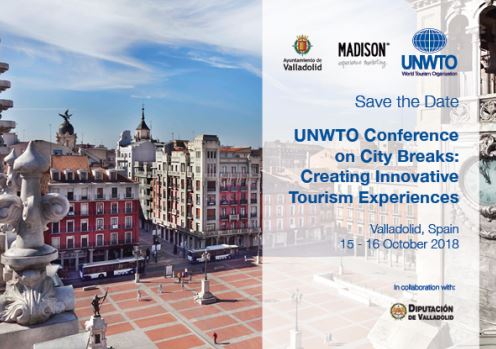 Event information details and an accompanying picture of old buildings looking onto a plaza in Valladolid.
The World Tourism Organization (UNWTO), the City of Valladolid, the Municipality of Valladolid and Affiliate Member Madison MK are pleased to inform you that theUNWTO Conference on City Breaks: Creating Innovative Tourism Experiences will take place 15 to 16 October, 2018 in Valladolid, Spain.
Taking place in a unique city with great historical importance, the conference will address different areas of specialization that can contribute to the successful positioning of urban destinations as City Breaks. Valladolid has been chosen as the venue for this first conference because it is a benchmark destination that is committed to a clear strategy in active, oenological, cultural and domestic tourism, by leveraging the unique elements the destination has to offer, such as sports, music, theater, cinema, literature and gastronomy. These will be addressed in the different panels, with special emphasis on governance and public-private collaboration models that allow for their proper implementation.