El Carlos Ecotourism and Archaeological Centre
Submited Date :
15/10/2018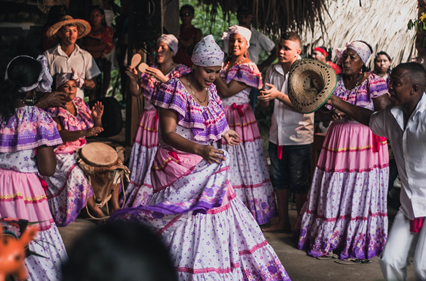 Traditional dance at the restaurant of the El Carlos Eco-touristic and Archaeological Center in Colombia. Photo credit: COMUNITUR.
The village of El Carlos in northern Colombia, situated in the Necoclí municipality in Antioquia state's Urabá region, lies next to the border with Panama. Due to its strategic location, the Urabá region has suffered a history of violence. El Carlos itself was affected, obliging communities to develop survival strategies to avoid becoming a target of conflict.
In 2005, with the demobilization of paramilitary forces, a process of community reconciliation began. Communities began working together in the spheres of tourism, handicrafts, fisheries and cocoa farms. Thus, the El Carlos Ecotourism and Archaeological Centre was created to strengthen tourism and peace in the area. The community was supported by the United Nations Office on Drugs and Crime (UNODC) and the Prosperity Department, which initiated a programme to provide community members with alternatives to illegal economic activities. Support was also forthcoming from the local government for various projects, with funds from a range of ministries and institutions. The community developed ties with tourism stakeholders in the area. In 2015, Colombia's Vice Ministry of Tourism designated the Urabá region as a pilot in its Tourism Development Plan, within the context of its Tourism, Peace and Coexistence programme.