Global Himalayan Expedition
Submited Date :
11/10/2018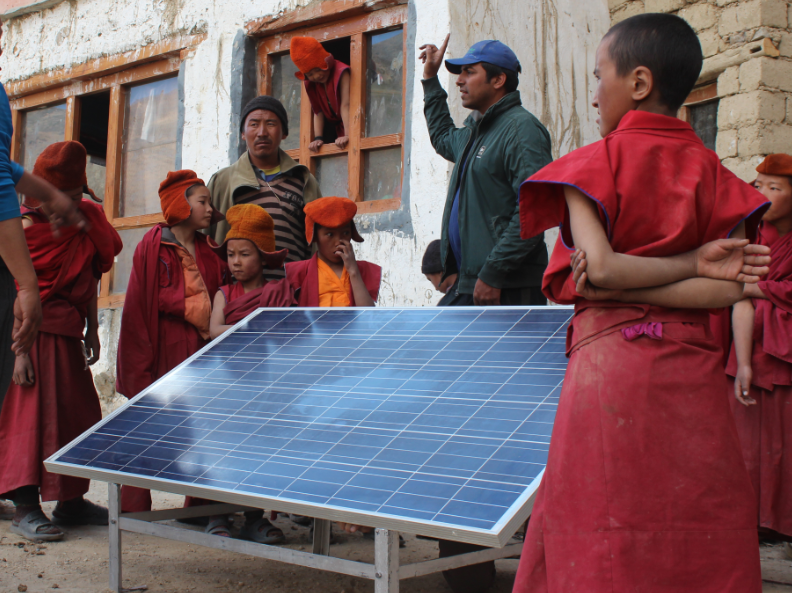 Solar Panel Installation by Volunteers
Ladakh, located in the Indian Himalayas, boasts rich cultural heritage due to its location on the ancient silk route. Tourists from around the world visit the area to meditate, explore its mountain valleys and its traditional heritage. Local communities were largely dependent on kerosene lamps for lighting, which emitted toxic fumes and caused health problems. In 2013, the Global Himalayan Expedition initiative (GHE) was founded by Paras Loomba in Ladakh to expand access to electricity for the area's remote Himalayan communities by leveraging tourism as a model to provide their villages with electricity.
The GHE offers tourists the opportunity to travel to the most remote reaches of the Himalayas, while having a tangible, positive impact on the lives of local communities through expanded access to electricity. It offers a life changing experience for visitors and local indigenous communities through its three-step expedition approach:
– A survey of the communities, involving the creation of an itinerary for the expedition which revolves around adventure and social impact;
– Reaching out to tourists through social media, inviting them to be part of the impact expedition; and
– Taking groups of 15-20 tourists from around the world to improve the lives of marginalized local communities.
To date, GHE has conducted 37 expeditions which have provided 53 villages with access to electricity, improving the lives of at least 20,000 people. The initiative has formed partnerships with several global enterprises, which send their employees to serve as part of leadership expeditions and extend electricity to the area's villages.