ILUNION Hotels
Content submitted by UNWTO –
Grace
Submited Date :
03/07/2018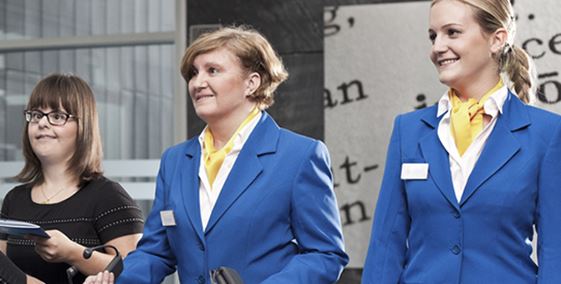 Ilunion Hotel employees
The pioneering policies of ILUNION Hotels in the area of universal accessibility carry an enormous potential to change attitudes, break down social barriers and make the accommodation sector more inclusive.
ILUNION Hotels has developed a specific business model of universal accessibility that comprises not only customers with disabilities and specific access requirements, but also its employees and suppliers. All the hotels of the group have obtained the Universal Accessibility Certificate from Bureau Veritas (UNE 170001-2), which guarantees that the hotels provide environments, rooms, and technical aids which ensure universal accessibility for all. ILUNION's workforce of 568 people includes 18,31% of employees with some form of disability, but if we consider both direct and indirect employees, the percentage reaches 40%. Furthermore, specific training plans in accessibility awareness guarantee a standard of excellence in the interaction between employees and customers. As the constant improvement in the area of accessibility is key part of the company's mission, specific plans are established every year to upgrade and improve the accessibility of the group's infrastructure and services.
For these reasons, ILUNION Hotels' innovative approach to accessibility represents a virtuous, innovative and replicable best practice of corporate social responsibility.
For more information, please visit the website.