Responsible Tourism and Crime Free in Medellín
Content submitted by UNWTO –
Grace
Submited Date :
05/07/2018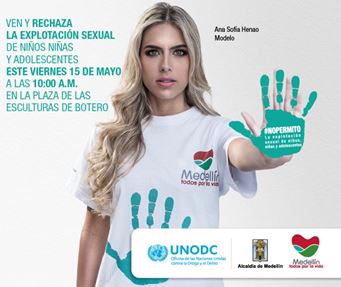 Model Ana Sofia Henao in a campaign condemning sexual exploitation of children.
The Office of the Under Secretary of Tourism of the Mayor's Office of Medellín has been working tirelessly since 2012 to fight against the commercial sexual exploitation of children (CSEC) associated with travel and tourism by promoting and implementing actions among entrepreneurs in the tourism sector and among the city's public and private agencies in order to work together towards responsible tourism. As a result of the executed activities, an average of 12,000 people have been reached by the CSEC program, and 41 public and private agencies have signed agreements to continue working to prevent sexual offenses.
The United Nations Office on Drugs and Crime (UNODC) works with governments and the civil population to prevent drugs and crime from threatening the citizens' safety, peace and development opportunities. Its work mandate in Colombia is directly related to promoting the update of the best international practices through contributions related to the generation of knowledge about the nature, scope and trends of the drug and crime problem, the support of the implementation of international conventions on the matter, the orientation and accompaniment for the development and implementation of national policies and strategies to fight drugs and crime, and the development of national abilities to address and prevent the production, traffic and abuse of drugs and other manifestations of organized crime.
As a concrete result of the identification of sexual exploitation activities in the city, and with the previous knowledge of the administration, the UNODC signed an agreement with the Office of the Under Secretary of Tourism of the Mayor's Office of Medellín, whose aim is to train local authorities and tourism services providers of the City of Medellín to identify the risk of behaviors related to human trafficking and the sexual exploitation of children and adolescents associated with travel and tourism.