rurAllure H2020 project: promotion of rural museums and heritage sites in the vicinity of European pilgrimage routes
Content submitted by European Association of the Via Francigena ways (EAVF) –
Aleksandra Fomina
Submited Date :
13/12/2022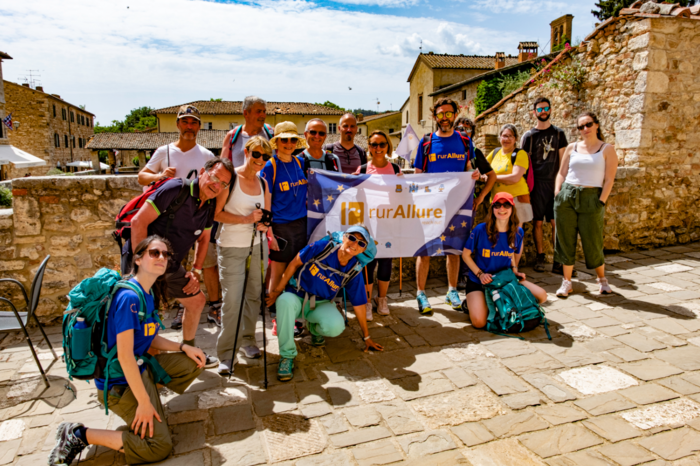 Horizon 2020 project, funded by the European Commission, promotes cultural heritage in the vicinity of historic pilgrimage routes and facilitates economic and social impact of sustainable tourism in rural areas. The project started on 1 January 2021 and has a duration of 36 months, while its main phases include identification of pilot areas and relevant heritage sites, definition of common and communication strategies in each pilot area, and design and promotion of a technological platform.
The rurAllure works on the identification and promotion of cultural heritage, located along the historic ways in four pilot areas (Santiago de Compostela, Via Francigena, Via Romea Germanica, Via Romea Strata, St. Olav Ways and Way of Mary), with a focus on its rural and less touristic parts. Mapping heritage landmarks along the pilgrimage routes, the project develops a digital repository of cultural points of interest which guides hikers and pilgrims along the routes and helps them to discover heritage without significantly deviating from the original route.
The project contributes to 17 Sustainable Development Goals with emphasis on SDG n.3, n.8, n.9, n.11, n.13, n.17. In particular, it adds value to local economies, extracting benefits from responsible use of heritage and creating well-being with the least amount of environmental harm. As 80% of the trails' territory lie in rural areas, the project provides a favourable environment for tourism enterprises in provincial localities, empowers local communities, promotes local culture and products. In addition, it valorises healthy lifestyle and reduces the risk of acquiring various diseases such as diabetes, cancer and cardiovascular diseases. Walking or cycling in the natural surroundings together with fellow ramblers helps to stimulate mental health and socialisation, reduce the risk of depression, and improve sleep quality and self-esteem.
rurAllure Horizon 2020 project is continuously working together with public and private actors as well as other EU-funded projects. The project invites interested organisations to collaborate and join a growing network of associated partners: for the moment, It brings together more than 50 organisations from 11 countries working in the fields of tourism, rural development, education and public administration.
join