World´s First 100% Electric Tour Bus
Content submitted by UNWTO –
Grace
Submited Date :
05/07/2018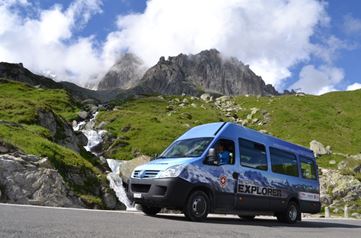 The Switchbus pictured infront of a mountain range in Switzerland
When the company Switchbus GmbH was set up in 2013, there were no electric busses with a long-range available for tourism, that were suitable for mountain excursions. As a result, the company invested significant private effort and financial resources to convert a regular small 16-seater IVECO Daily bus to be 100% electric. The project was successful and since the summer of 2014, "Switzerland Explorer Tours" offer a variety of day and multi-day tours based on sustainable tourism principles. The bus called "Switchbus" has a range of 200-300 km depending where it travels. It is also supplied with renewable energy by the local Lucerne utility company "Energie Wasser Luzern", making all tours zero-emissions (and so no emission compensation required). The successful innovation of Switzerland Explorer Tours is related to two public-private stakeholder collaborative initiatives, both initiated and coordinated by the company.
These included the:
a) Development of a 100% electric tour bus, and
b) Design of sustainable tour experiences.