HLPF 2023 Official Side Event: Economic, Social and Environmental Sustainability in Tourism
Submited Date :
06/07/2023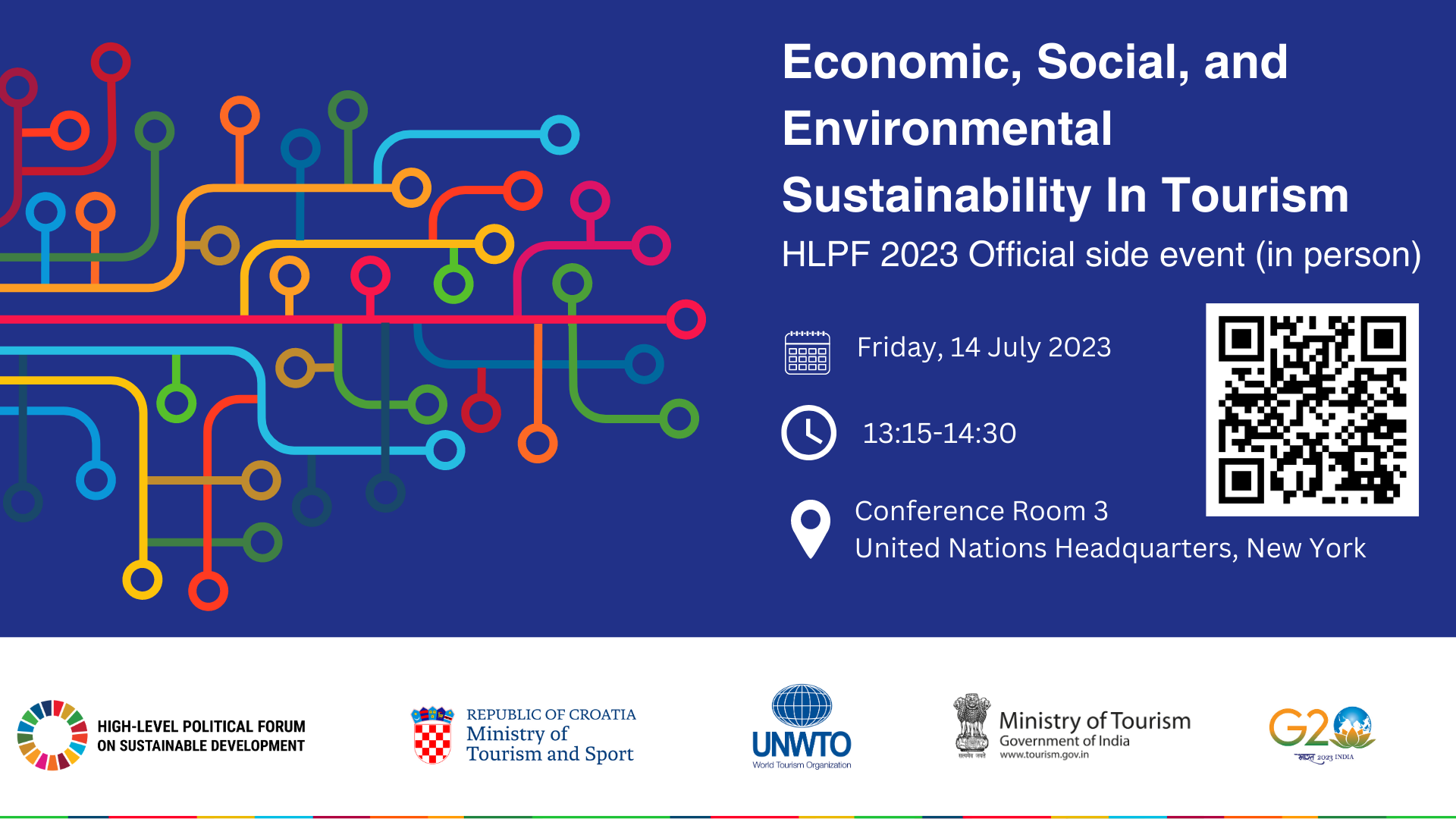 The Ministry of Tourism and Sport of the Republic of Croatia in collaboration with the World Tourism Organization (UNWTO), organized this in-person side event with the support of the Ministry of Tourism of India, Chair of the G20 Tourism Committee Presidency, to showcase how partnerships across multilateral, public, private, and academic sectors are actively contributing to fulfilling tourism's potential in achieving the Sustainable Development Goals (SDGs).  
 The official side event took place in conjunction with the 2023 High-Level Political Forum (HLPF) on Sustainable Development.
Date :14th July 2023 at 13:15-14:30
Venue: Conference Room 3, United Nations Headquarters in New York.

 
The side event aims to foster a collective understanding of the importance of sustainable tourism and its potential for promoting the SDGs. Key outcomes include: 
Enhanced awareness of the need for resilient tourism practices and sustainable recovery strategies.

 

Promotion of inclusive approaches that empower women and youth in the tourism sector.

 

Showcasing how the private sector can advance towards effective sustainability actions that can be measured and reported in alignment with the Sustainable Development Goals (SDGs) 

 

Successful partnerships and collaborations that demonstrate the transformative power of tourism in achieving the SDGs.

 

Emphasis on the role of data and measurement in tracking progress and ensuring the alignment of tourism initiatives with broader policy objectives.

 

Inspire common action between the public and private sector for the tourism sector to achieve real sustainability by focusing on the social, environmental and governance aspects in tourism;

 and

Present the results and lessons learnt from the joint UNWTO – JICA Achieving the SDGs through tourism - Toolkit of Indicators for Projects (TIPs)
This side event served  as a platform for meaningful discussions and the exchange of ideas to promote sustainable recovery, advance innovative solutions, and strengthen the role of tourism in achieving the SDGs.
Watch the event recording  here