Bali Beach Clean-up
Content submitted by UNWTO –
Grace
Submited Date :
05/07/2018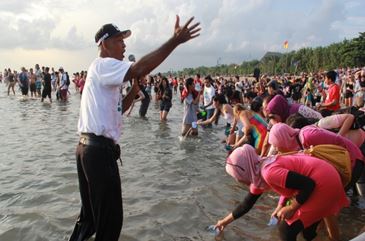 Picture of the locals participating in the beach clean-up, Bali.
The ocean sustains us with the basic elements of life -it produces half of the oxygen in the air we breathe, and it is an essential part of the water cycle, helping to provide the water we drink. However, we face difficult challenges when it comes to preserving clean oceans, but one problem is simple to understand: rubbish. Rubbish is one of the most widespread pollution problems facing our oceans and waterways. We all know waste in the water compromises the health and livelihoods of humans and wildlife, and threaten the tourism industry that depends on it.
Unfortunately, even in world famous beaches, such as those in Bali, we have all noticed the "tsunami of trash" on the beachfront these past few years during the wet season. During this time, which usually occurs between October and April, tons of rubbish will pile high after having been washed out by the monsoon rain and brought back by onshore winds, leaving the island in a horrendous condition. That's why since 2012, Garuda Indonesia joined forces with Coca Cola, Amatil Indonesia (CCAI) and Quiksilver Indonesia (QS) through Bali Beach CleanUp program – a bold action founded by CCAI and QSin2008 – that aims to minimize the impact of waste on the beautiful beaches of Bali, strengthen the tourism industry which will help improve the welfare of the local people, and support Bali's government's program.