Leave it Better than You Met It : Keep Ado-Awaye Clean
Content submitted by ComeMakeWeGo Africa –
Atabo
Submited Date :
17/02/2020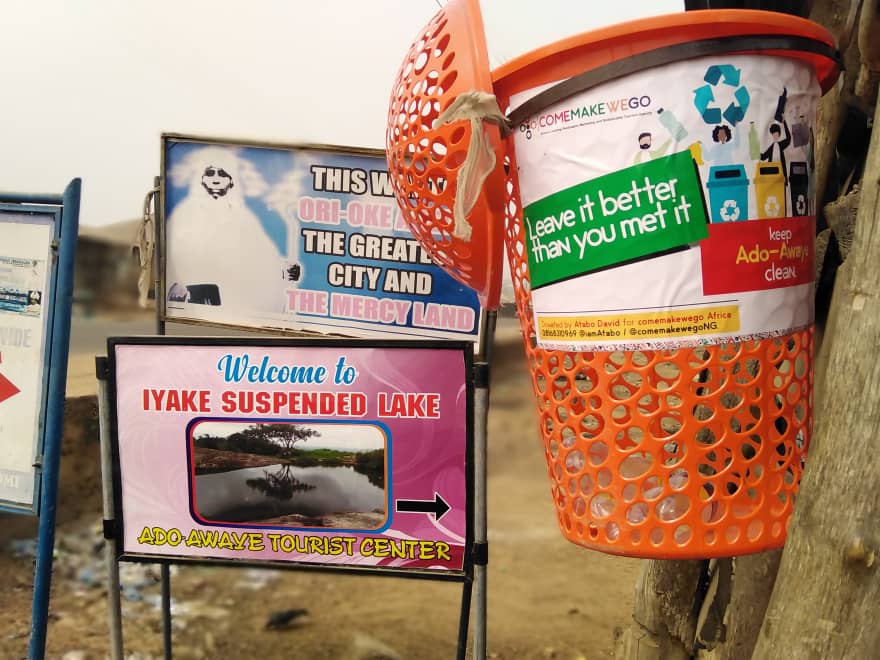 ComeMakeWeGo Africa launches an environmental sustainability initiative with wastebaskets and bins at Ado-Awaye(Oyo State, Nigeria) to boost sustainable tourism.
"Leave it better than you met it; Keep Ado-Awaye Clean"
Lagos, Nigeria, Feb 13, 2020: -- In the cause to boost sustainable tourism around local communities in Africa, Comemakewego Africa, a leading destination marketing and community-driven sustainable tourism agency in Nigeria initiated an environmental sustainability project in Ado-Awaye, Oyo state, Nigeria.
Comemakewego Africa has been the sole promoter of Ado-Awaye; A community in Oyo state known to have the only suspended lake in Africa(1 of the only 2 in the world), and the best hiking landscape in southwest Nigeria.
Due to the dynamic strategies used for destination promotion, Comemakewego Africa has been able to get over 5000 hikers to the destination in less than 2 years, and as these numbers keep increasing, the brand believes there is a need to take actions in ensuring the environment is kept safe for both the locals and hikers.
The launch event was attended by members of the local community and state government. To mention a few in attendance;
Local community: The Royal Father (Alado of Ado-Awaye), the community chairman, elders of the community, youth representatives.
State Government: Permanent Secretary Ministry of Information, Culture, and Tourism, Director of Culture, Director of Tourism, SA to the governor on student affairs, etc.
While addressing the community leaders and representatives, Atabo David, who is the founder of Comemakewego Africa stated that "It is when the local people understand the benefit of development, that is when the government and private investors would be encouraged to bring further development". This statement was to charge the community to ensure that every development coming into the community should be guarded jealously and taken care of, and also, the members of the community need to be at peace.