Tourism and Culture to work together for the SDGS
Posted Date : 12th December, 2017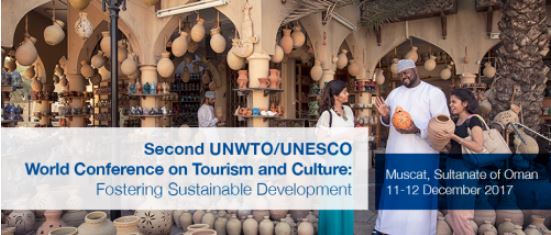 Over 800 participants from 70 countries gathered in Muscat, capital city of the Sultanate of Oman on 11-12 December 2017 for the Conference, an official event in the calendar of the International Year for Sustainable Tourism for Development 2017.
The Conference held under the patronage of H.H. Sayyid Fahd bin Mahmoud al-Said, Deputy Prime Minister for the Council of Ministers of Oman, brought together Ministers of Tourism and Ministers of Culture as well as private sector stakeholders and experts with the objective of building and strengthening partnerships between the tourism and culture sectors and enhance their role in the UN's 2030 Agenda for Sustainable Development.
The Muscat reaffirms the commitment to:
– Strengthen the synergies between tourism and culture and advance the contribution of cultural tourism to the 2030 Agenda on Sustainable Development and the 17 SDGs;
-Enhance the role of tourism and culture in peace building and heritage protection, especially in conflict affected areas;
-Promote responsible and sustainable tourism management of cultural heritage;
-Encourage a creative and innovative approach for sustainable urban development through cultural tourism; and
-Explore the inter-linkages between culture and nature in sustainable tourism.
For full article, click here.